iPad and Procreate tend to come to mind when people think about digital art. But what if you want to get one of the best Android tablets on the market and build your next masterpiece on it? One of the paint apps for Android that stands out from other products is Infinite Painter. It provides a high quality drawing experience with a minimalist interface that is easy for beginners to use. However, if you are an advanced user, there are plenty of tools to make this a complete paint studio.
Intuitive user interface
When you open a new canvas, you will see two toolbars. The main floating toolbar controls the drawing tools. Here you can access different brushes, change the color of the paint, and adjust the opacity and size of the brushes.
Another toolbar, pinned to the top of the screen, has four buttons. Two of them open different toolsets. One button opens the Layers panel and the last button handles file import / export, settings opening, and more.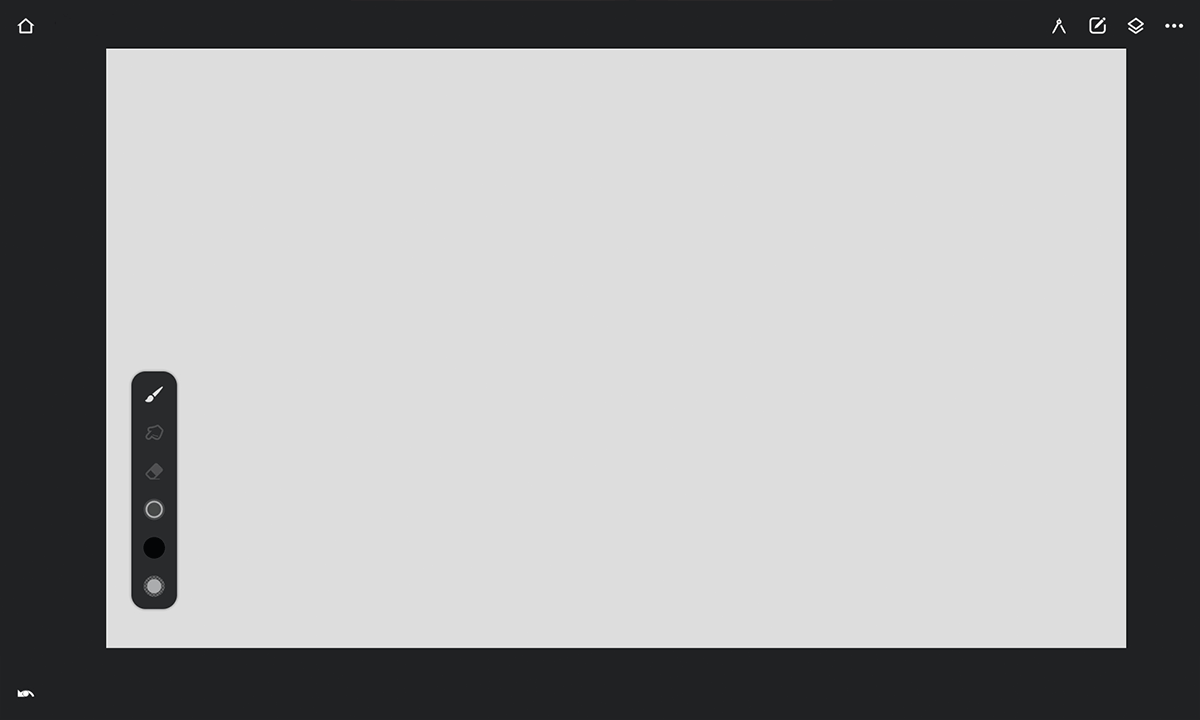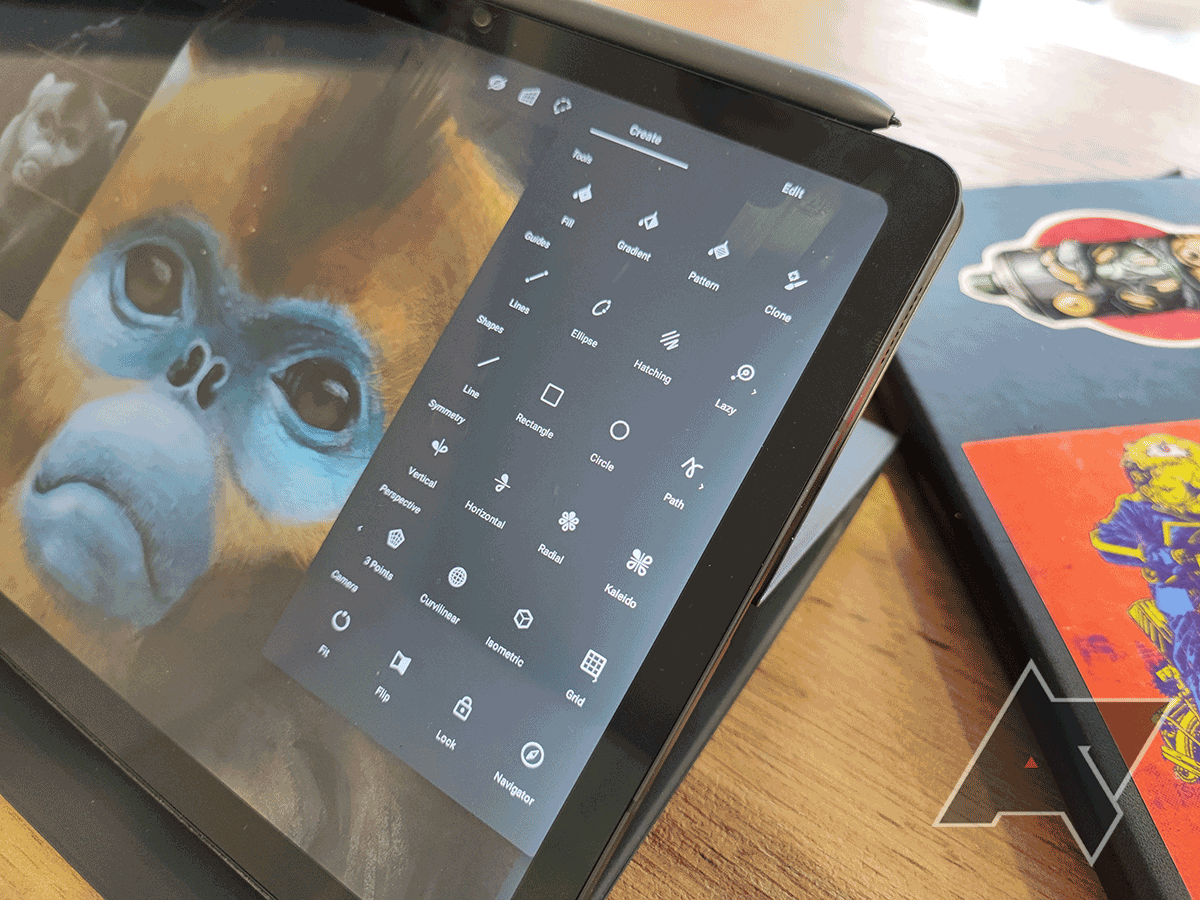 Customize your workspace
Infinite Painter provides a small space for fine-tuning the minimalist workspace. To do this, drag the most commonly used tool from the Tools panel and pin it to the top bar. This particular feature is for tablets only.
You can also dock the color wheel and color palette in both the tablet and phone versions of the app. This makes color switching much faster while painting, without having to tap to open the wheel each time. If you're new to the default wheel style, you can choose from six different color wheel styles.
Wide range of brushes
Infinite Painter offers an assortment of brushes in various categories. Many of them imitate real brushes and paints to make the work look and feel like a traditional painting. In addition to the user-created community library of brushes, there are also a variety of pencils, chalks and charcoal for drawing.
Filling is a very useful tool. Fills, commonly known as the Lasso Tool, add color to an image when you draw a shape. You don't need a paint bucket.
Like Procreate, the app has a powerful brush editor built in. It's a daunting feature for beginners, but it's designed to be extremely easy to use. You can change various settings such as the shape of the brush, the texture, and how to mix it with the paint already on the canvas.
Guides and perspective grids
Infinite Painter helps you draw things from an accurate perspective by providing several different types of grids. There are 1-point, 2-point, 3-point perspective grid, and curved grid options. If you enjoy creating isometric graphics and environments, there is also a grid for that.
When you select a grid and set parameters, the lines you draw follow the lines of the grid. You can use these lines only as guides and switch off snaps if you don't follow them exactly. With the grid active, you can select one of the shape tools to draw nice circles and rectangles that follow perspective.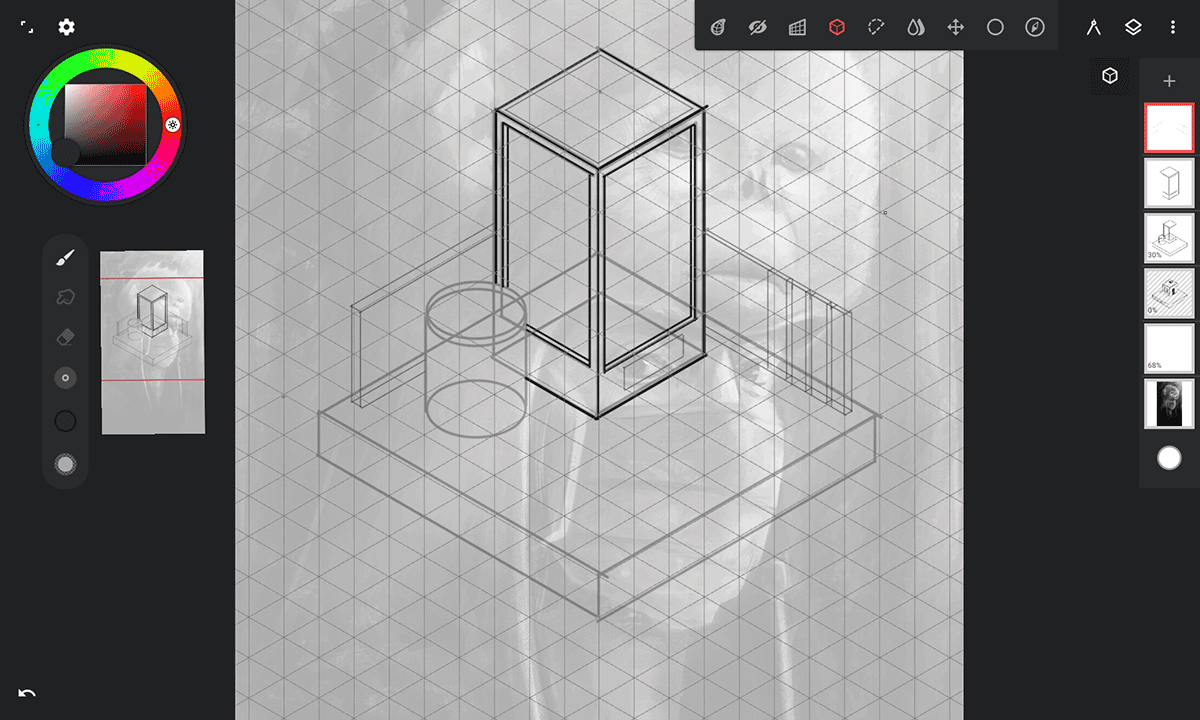 Navigator window
The Navigator panel is a floating window that makes it easy to find around the zoomed-in canvas. To maintain a 100% view of the artwork, you can see how the artwork is affected as you paint the details. When you zoom in, a red box appears in the window around the corresponding area of ​​canvas displayed on the screen. You also have the option to switch this window to black and white.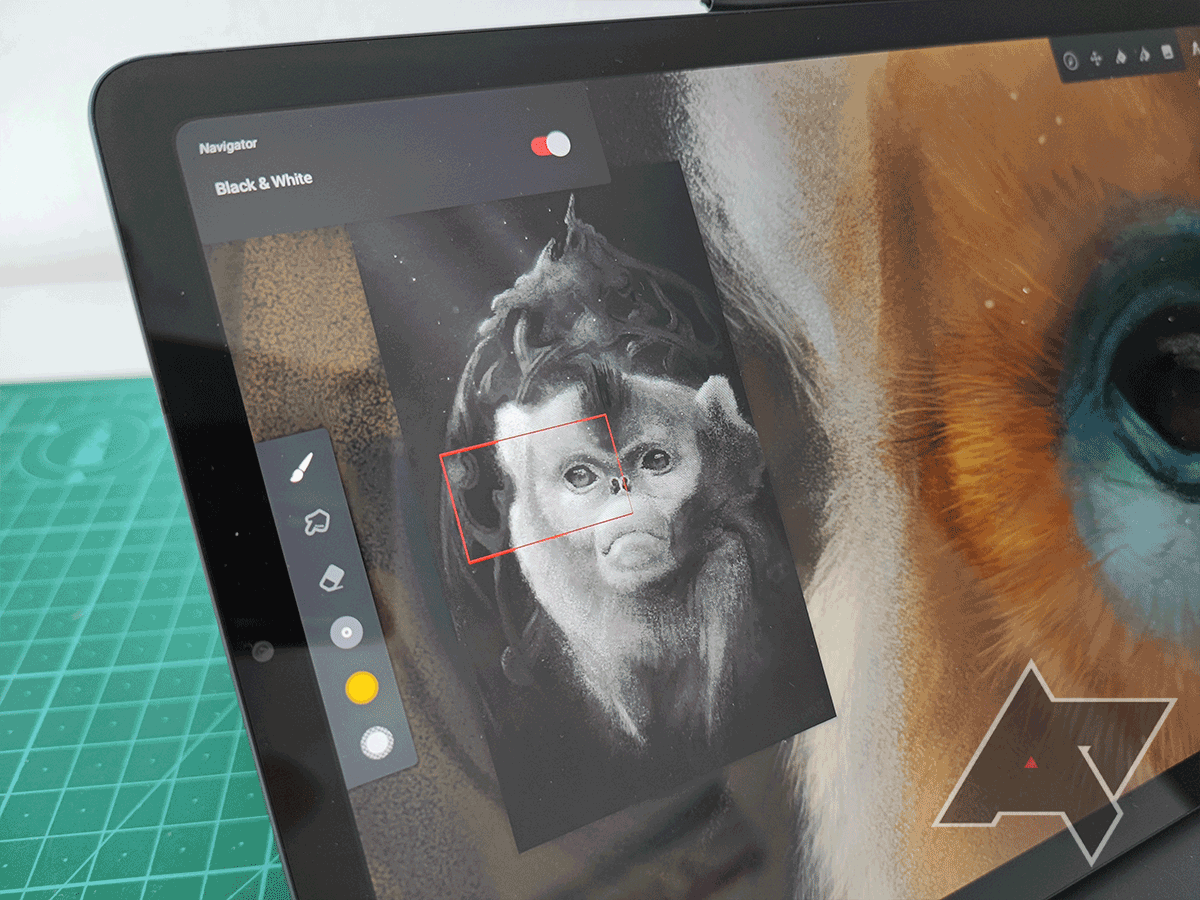 Colors from a gradient map
Infinite Painter is one of the few mobile painting apps with a gradient map feature. This is an easy way to change the color of an image or add color to a grayscale image.
First, select the highlight, midtone, and shadow colors. The app will now create a gradient as a new layer and apply it to the image. It matches the light level (or value) of your painting to those selected colors.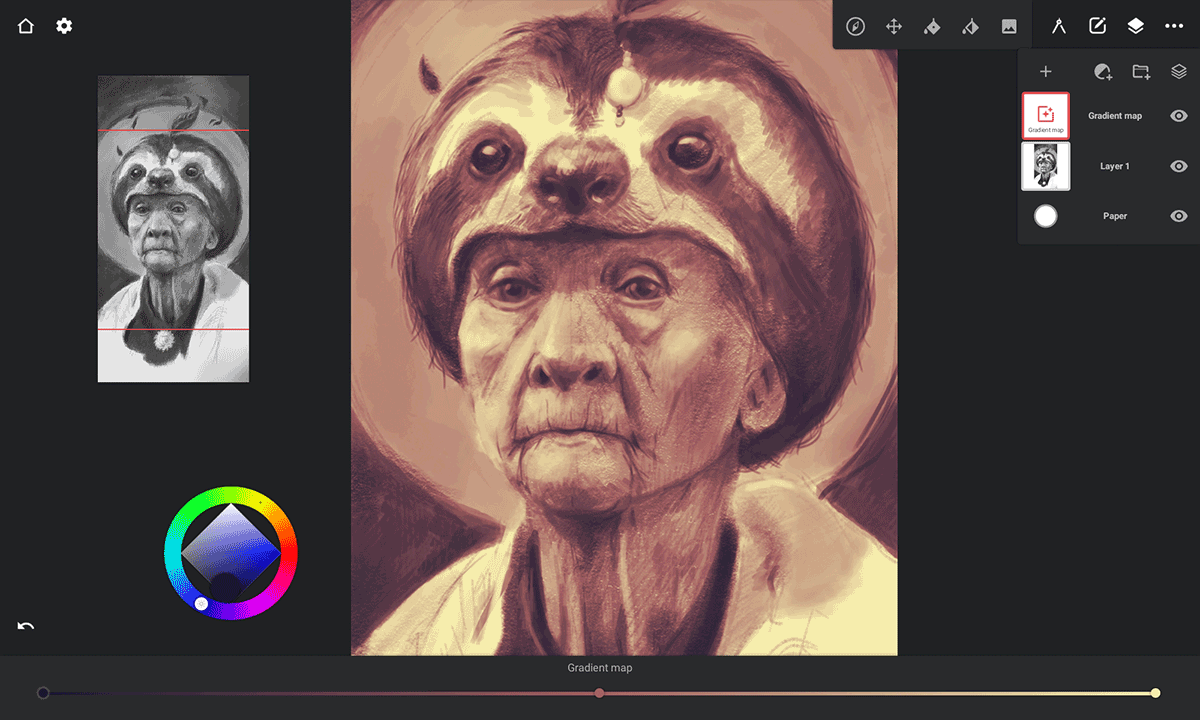 Import reference image
The app allows you to import an image into your workspace as a new layer or as a reference image. Importing as a reference means placing the image on top of the canvas rather than pasting it on the canvas. You can even add multiple photos to make it look like Pinterest's floating board. Each image can be scaled, moved, and even flipped without affecting the canvas. A new button will appear in the upper right corner, displaying a panel for controlling the image to be displayed.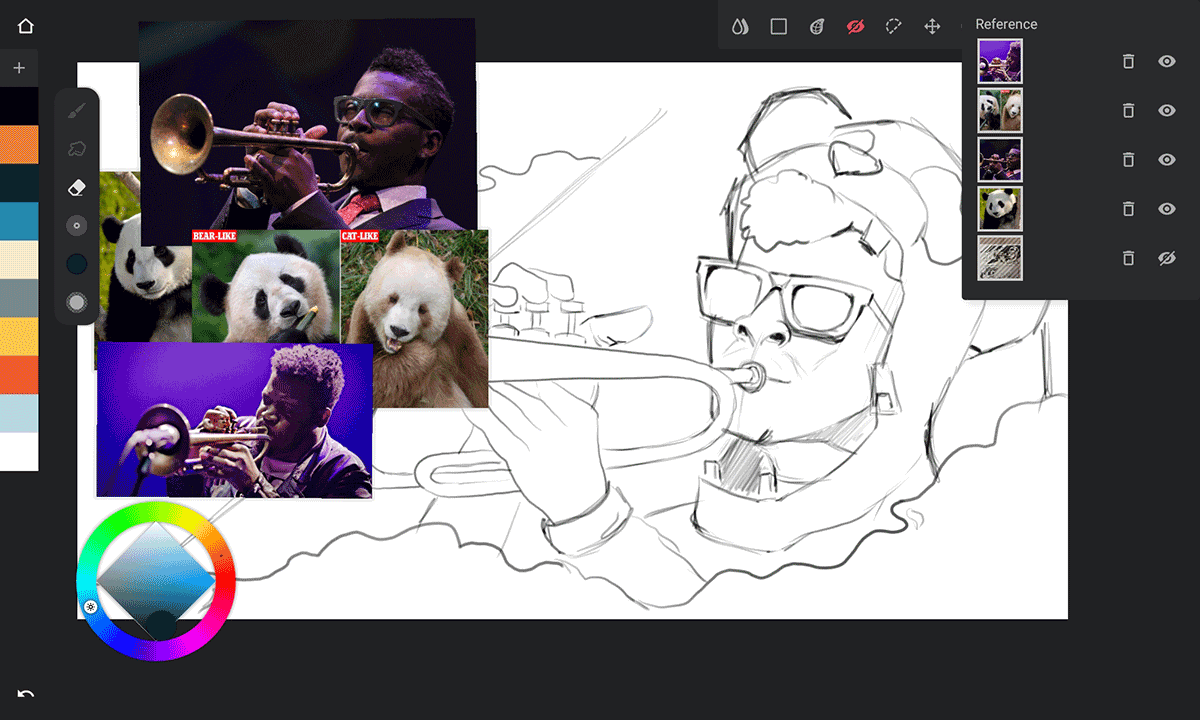 ---
As the name implies, Infinite Painter is good for painting and drawing. Brush sets are suitable for imitating traditional media. However, it lacks certain tools that comic creators may need, such as text and speech bubbles. To do that, check out Clip Studio Paint.
There are other free digital drawing apps. Some features will be reduced, but it may be a better option for casual graffiti enthusiasts. For others, Infinite Painter is an elaborate mobile art studio for your tablet.