In parallel with the publication of the annual report for the past quarter, publisher Take-Two Interactive has published new data on sales of the best horse in the stable: Grand Theft Auto V (GTA 5) has sold over 160 million copies. .
[Anzeige] Are the evenings dark and rainy? Watch Disney, Pixar, Marvel, and Star Wars movies, as well as series like Developers – all in one place, on Disney+!
Only Minecraft can surpass 160 million sales
Respectively, List of most successful video games on Wikipedia revision because it still has the previous value of 155 million units. In any case, GTA 5 remains in second place behind the blocky game Minecraft (238 million sales), which is already impossible to catch (238 million sales), and ahead of the classic Tetris in the EA version, which came in third place (100 million sales).
GTA franchise with 370 million sales
Together with previous games in the GTA series, the franchise has sold over 370 million copies, according to Take-Two. When it was first released in 2013, GTA 5 (test version) was the most expensive video game of all time. However, the money paid off very quickly, because in just 3 days after the release, sales have already exceeded one billion US dollars; this record remains unsurpassed to this day.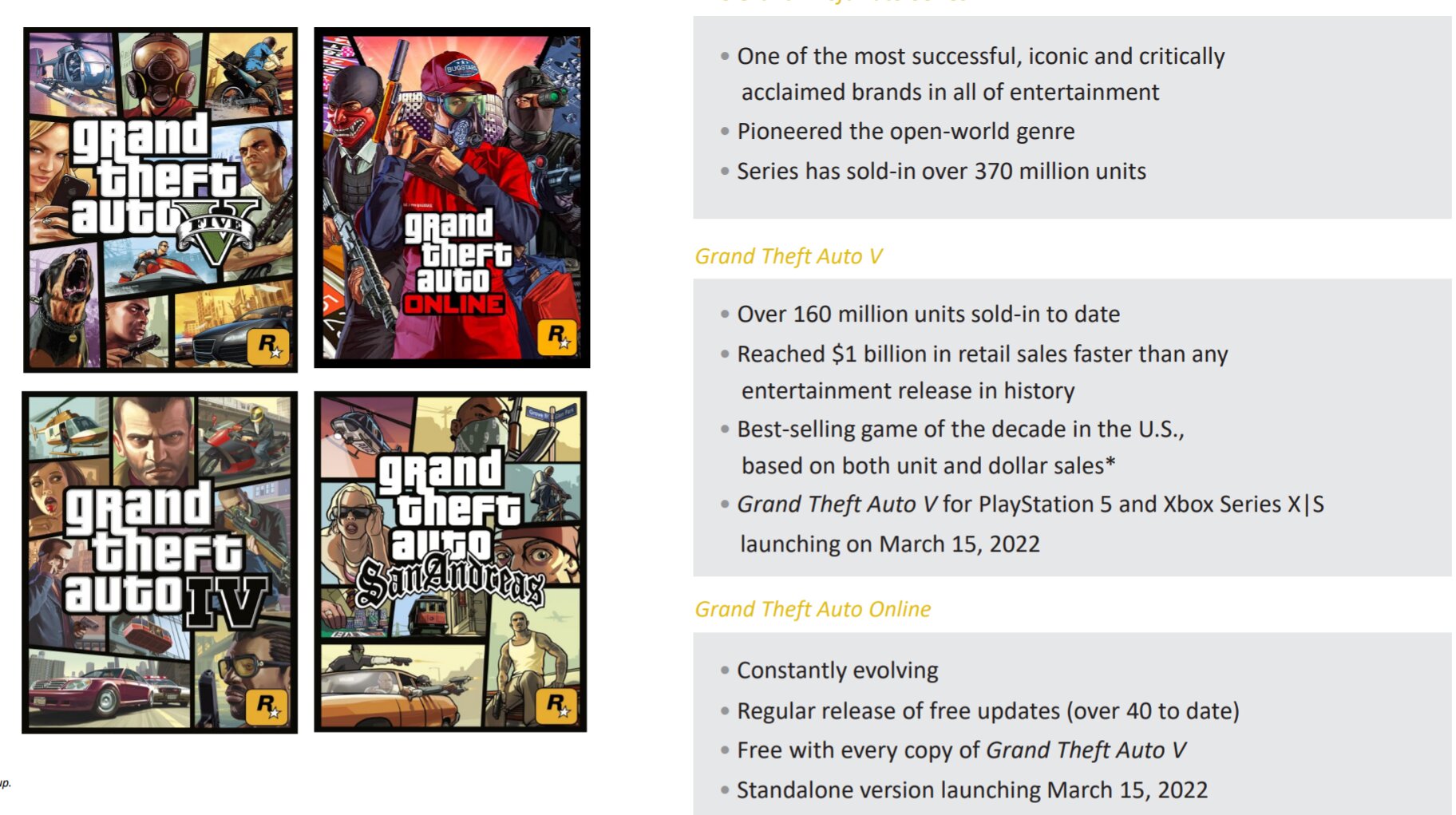 New GTA V sales data (Source: Take-Two)
GTA 5 Coming to the Following Platforms in March
It remains to be seen if development studios Rockstar Games and Take-Two will be able to build on that success with GTA 6's successor. But it will likely be a long wait.
Until then, new versions of GTA 5 for PlayStation 5 and Xbox Series X | S should appear on March 15, 2022 and ensure further sales of the game. Among other things, the new version should offer updated graphics, including 4K resolution, up to 60fps, HDR and ray tracing options, and faster load times. On the same day, a separate version of GTA Online should also appear.
On March 15, Rockstar Games will release Grand Theft Auto V for PlayStation 5 and Xbox Series X|S, bringing an unprecedented entertainment experience to third generation consoles. This new release introduces new graphics modes with resolutions up to 4K, up to 60fps, improved textures and draw distance, HDR options and ray tracing, as well as faster loading times, immersive 3D audio, platform-specific features, and more. more. Also in March, a standalone version of Grand Theft Auto Online will be released free on PlayStation 5 for the first three months, allowing new players to join a thriving community on the latest next-generation console hardware.

Take two interactive
New quarterly data from Take-Two
For the third quarter of fiscal year 2022 ending December 31, 2021, Take-Two generated $903.3 million in revenue. This is three percent more than a year earlier. Net profit, in turn, fell more than 20 percent from $182.2 million to $144.5 million.
For the entire fiscal year 2022 ending March 31, Take-Two expects sales to be just over $3.4 billion and profits to top $360 million.
Take-Two Interactive, an American company headquartered in New York, also includes publisher 2K, known for games from the BioShock, Borderlands, Civilization, NBA 2K and X-COM series, among other things. With a market capitalization of nearly US$20 billion, Take-Two is one of the largest publicly traded video game companies.
Activision Blizzard is even bigger, with a current market value of US$62.8 billion. But soon the giant will be swallowed up by an even bigger fish: Microsoft wants to acquire Activision Blizzard for $68.7 billion.
Take-Two also wants to grow through acquisitions and announced a $12.7 billion takeover of mobile game developer Zynga just over a week ago.